Date and Time:
June 18, 2023 2:00 pm - June 23, 2023 - 4:00 pm
Event Location:
Shell Lake Arts Center, 802 1st Street, Shell Lake, WI, 54871
Description
Piano Camp with Nicholas Phillips (June 18-23)
Camp Dates: June 18-23, 2023 (Dr. Nicholas Phillips)
Final Performance: Friday, June 23-Time 2pm at the Erika Quam Memorial Theatre
For students completing grades 6-12
$725-Residential Tuition
$400-Commuter Tuition
Take your piano-playing skills to the next level!  From beginners to advanced pianists, you will learn more at this camp than you ever thought possible.  This camp includes the opportunity for students to play on state of the art digital pianos graciously loaned to the Shell Lake Arts Center by Schmitt Music.  Campers will receive individualized and group instruction daily, with a focus on both solo and ensemble performance. Each student receives a private lesson daily .  In addition, students will participate in a studio class where they will perform and provide critique for each other.
Students will focus on improving their technique, dexterity, musicianship sight-reading, accompaniment, effective practice methods, keyboard theory and piano literature.  All campers will perform on the final concert in the Erika Quam Memorial Theatre.
Screening Placement-  All students should bring a list of the music that they have performed during the past year.  They should be prepared to play a selection that is no longer than 5 minutes.  If students have begun their study of scales, they should be prepared to play a 2 to 3 octave major scale in both parallel and contrary motion.  This part of the screening is optional.
Students should bring a selection that they would like to begin learning while at camp.  All students should bring headphones with a 1/4 adapter to plug into the Digital Pianos.
Daily Schedule
7:15 Wake Up
8:00 Breakfast
9:00  Technique class (Scales, Arpeggios, Hanon, Sight Reading)
10:00 Music Theory
11:00  Individual Practice/Private Lessons
12:00 Lunch
1:00  Studio Class
2:00  Elective Class
3:00  Ensemble Practice/Private Lesson (each participant receives a private lesson during the course of the week)
4:00  Free Time
5:00 Dinner
7:00  Evening Concerts/Camp Activities
10:30  Lights Out
CAMP DIRECTOR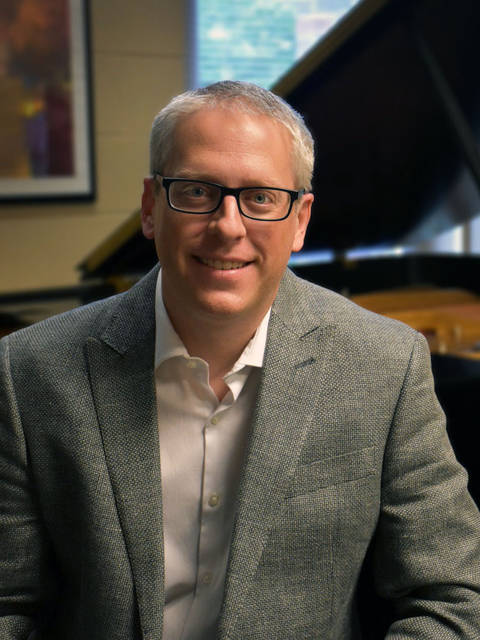 Described by the New York Times as a "talented and entrepreneurial pianist" and an "able and persuasive advocate" of new music, Nicholas Phillips' playing has been praised for its "bejeweled accuracy" (Fanfare) and as "razor-sharp yet wonderfully spirited" (American Records Guide).  He is active as a soloist and collaborative artist, having performed all across the United States.  He has also given solo recitals and performances in Europe, South America, Asia, and Africa.
Phillips has given lecture-recitals and presentations at conferences in the U.S., Argentina, Croatia, England, Finland, South Africa, and South Korea.  He is the author of "Mendelssohn's Songs without Words Revisited: Culture, Gender, Literature, and the Role of Domestic Piano Music in Victorian England," published by VDM Verlag.  In 2011 he released two CDs on Albany Records; Portals and Passages, which features the piano music of American composer Ethan Wickman, and Boris Papandopulo: Piano Music. Recent releases include American Vernacular: New Music for Solo Piano (New Focus Recordings, 2014), featuring commissioned works written for him on that theme by 10 American composers, and Impressions (Blue Griffin Records, 2016), a collection of 21st century character pieces by living American composers. His newest release, Shift (Panoramic Recordings, 2019), features world premiere recordings of works by eight living women composers.
He holds degrees from the University of Missouri-Kansas City Conservatory of Music, Indiana University, and the University of Nebraska-Lincoln and is currently Professor of Music at the University of Wisconsin-Eau Claire.
Phillips is a Yamaha Artist.  For more information, please visit www.nicholasphillips.net.
ADDITIONAL INFORMATION
Questions? Feel free to contact us for any additional information.
Accommodations ~ Lodges are available for the duration of the camp session. They are supervised by a professional counseling staff on duty 24 hours each day and meals are prepared under the supervision of a state-approved dietitian.
Commuter students are expected to remain at camp until the day's activities are completed (Typically 9:am-8pm).
Registrations ~ Online registrations are accepted until the camp is full. Students may be placed on a waiting list if desired. A camp registration form is sent after payment is received. All cancellations must be made in writing and received 3 weeks in advance of the start of camp for a full refund. A $75.00 fee will be deducted from your refund. Refunds less than three weeks before camp will be evaluated on a case by case basis.
Residential Tuition~Our student tuition is $725 per student and includes instructional fees, room and board and a camp t shirt which will be worn at the final performance. Please refer to the registration materials found on our registration site at Ultracamp for complete details. A $100 down payment is due at the time of registration.  The remaining balance can be paid at the time of registration or in equal monthly installments.  All Tuition must be paid before arrival at camp.
Commuter Tuition~This option is for campers that want to attend our camps but not stay in our dorms, The $400 tuition covers instructional fees, a camp T-Shirt which will be worn at the final performance, meals, and evening activities. Commuters arrive for their first class by 9AM, and can be picked up any time after evening activities conclude (usually around 8pm).
Scholarships ~Each year, the Arts Center raises funds for the scholarship program. If you are interested in applying for an Arts Center scholarship, please visit our website
Check-in/Check-out~Check in begins at 2pm on Sunday of the week your camp begins.  All medical, dietary, and consent forms must be completed in UltraCamp before arriving at camp.  Additional information will be emailed to you approximately 4 weeks before camp begins.
Additional Information ~ To request disability accommodations, or other special requests, please contact the Arts Center at least two weeks in advance of camp. More information about camp and all of the opportunities available at the Shell Lake Arts Center can be found on our website.
Participants are admitted without regard to race, color, religion (creed), gender, gender expression, age, national origin (ancestry), disability, marital status, sexual orientation, or military status, in any of its activities or operations.  The Shell Lake Arts Center is an inclusive organization, and we accept all artists and musicians.